The Castletown and District Over 60's Club
The Castletown and District Over 60's Club was formed in August 1960 and on the 11th April 1973 it was formed into an 'Unlimited Company Without A Share Capital' and it has its registered office is in the Isle of Man.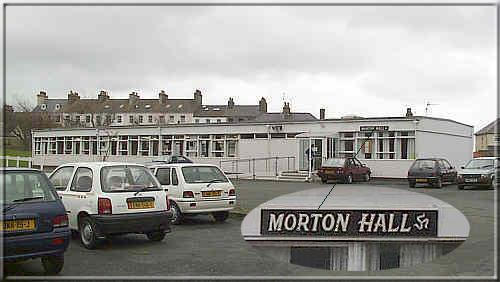 The Club premises, which are situated off Victoria Road, Castletown were built in 1969 with public donations and by voluntary workers and was officially opened in July 1970.
The Club premise are called 'Morton Hall' and it is a large single storey building consisting of:
| | |
| --- | --- |
| 1 | A large main hall (capable of seating up to 300) with a platform stage; |
| 2 | A modern kitchen with serving hatch into main hall area, two large commercial gas cookers, commercial warming cupboard, hot water facilities and adjoining food preparation area; |
| 3 | Shop area with serving hatch into main hall; |
| 4 | Small lounge (ideal for small gatherings); |
| 5 | Ladies and Gents W.C. facilities. |
The whole building has oil-fired central heating, thermostatically controlled and there is plenty of land for car parking. There is access for the disabled to the building and there are WC facilities for persons with disabilities.
The building is available for hire (see details).
Membership is open to anyone who resides in the South of the Isle of Man who is of the age of 50 years and over, all applications for membership are subject to approval by the Clubs executive committee.
There are Associate members and Full members and conditions apply.
There is an annual membership fee of £17.00 per year.
All applications for membership should be made to the Hon Secretary
The main events held by the Club are:
Bingo nights held every Sunday and Thursday evenings throughout the year at 8:00 p.m. and are open to anyone.
Concerts held on a regular basis throughout the year, usually with a buffet and start at 7:45 p.m. and are open to anyone.
Coffee Mornings are held four times a year during the autumn and winter and are held at the Civic Centre 10:00 a.m. to 11:30 a.m. and are open to anyone.
Message from the President and Chairman of the Club
I hope you find the information about our Club interesting and that those who are eligible for membership will join the Club.

You will find it a friendly Club whose members believe in enjoying themselves and offer to anyone enjoyment and friendship. All our events, with the exception of the AGM outing and the Christmas Party, are open to non-members and we enjoy regular attendances by non-members from all over the Island so please feel free to come along.

It's a great Club and I look forward to seeing you at our events

Yours truly,

Hon J A Brown MHK
Note: The information regarding the Clubs Memorandum and Articles of Association contained in these pages are only an extracts from the said items and do not in any way override the provisions as contained in the documents as incorporated at The General Registry on the 11th April 1973.