Castle Rushen – Sealed Knot
In October 1651 Castle Rushen was
invaded and surrendered to Parliament


Page one – Cromwell's troops land at Derbyhaven
In October 1651 the Countess of Derby surrendered Castle Rushen Isle of Man to the Parliamentarian forces which landed on the Island under the command of Colonel Duckenfield. This year – 2001 – being the 350th anniversary of this event, Manx National Heritage took the opportunity, in conjunction with the Sealed Knot Society, to hold a large scale re-enactment of the drama which took place on this important day in Manx history.
In the following four pages we reproduce a pictorial record of this memorable weekend commencing with the Parliamentary Forces invasion at Derbyhaven.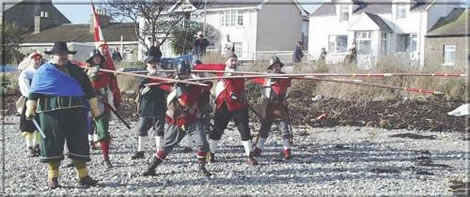 Colonel Duckenfield's Parliamentary forces have landed and face the Royalists and Manx Militia, the latter under the command of Illiam Dhone who, after a short skirmish, realised it would be prudent to side with the Parliamentarians.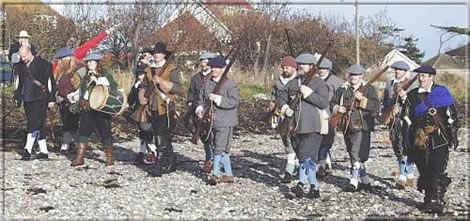 During further fighting the remaining Royalists were overwhelmed, scattering in confusion, retreating to the Castle but taking with them Colonel Duckenfield's surrender demand.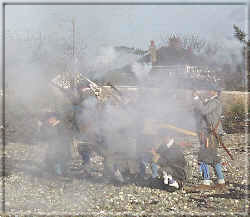 Colonel Duckenfield marched his men back to Castletown – pausing to watch his Artillery softening up the Royalists from Hango Hill. Some sporadic response from the Castle did not trouble the gunners.